13 KPIs in 5 Critical Zones To Superheat your HVAC Finances

Not knowing which way to take your company isn't a good feeling. But, not having a way to gauge your performance can be even more daunting. If you don't have a reference point, how can you know which direction you're heading? To lead your business through growth, and to a more profitable operation, business leaders need to compare metrics on a regular routine so that they can measure the success of their efforts.
By not tracking performance, a business owner risks more than loss profits and sales; they could be losing money. Owners may fail to benefit from important strategic growth opportunities, and they may be working too hard on the wrong projects. Wasted time, disorganized accounting, and a difficult reporting process can wreak havoc on your mind, causing anxiety and sleepless nights.
An insult to injury is bad bookkeeping. Inefficient, incomplete and inaccurate accounting records can lead to confusion and frustration. Bad bookkeeping works against you, it can misguide you and it can cost you time and money. Ultimately bad bookkeeping will not provide you with the key metrics that you need in your business to grow it to a more profitable operation. Don't let bad bookkeeping and accounting keep you from being a successful business owner. You shouldn't pay for bad accounting that isn't delivering the results and information that you need to successfully run your business.
To help you run your busines, we bring together a couple of concepts about viewing metrics in your business that aren't the standard accounting benchmarks. By using our Pros First initiative, we use a system to help you compartmentalize information in a clear and meaningful way. Much like that of a dashboard in your truck; once you become familiar with it, you'll be able to instantly know if your business is diverting off course.
In the following five zones, the first two are about time. We reference Clock Work by Mike Michalowicz to implement the 4D System. Then we use the ACDC system, to break the remaining three zones down to sales and marketing, operations and finance.
How much time do you and your company spend in the following categories?
Doing - Actually performing the work in your business, collectively and individually.
Deciding - Making decisions based on information from your dashboard.
Delegating - Empowering others, systems and people to perform routine tasks. But, this is the time that you spend training, teaching and working with the people that you are delegating your work to.
Designing - What the business should look like and do. How should it operate. This is time spent laying out processes in each major category of operations.
According to Mike, the perfect mix is 80% doing, 8% delegating, 2% deciding and 10% designing.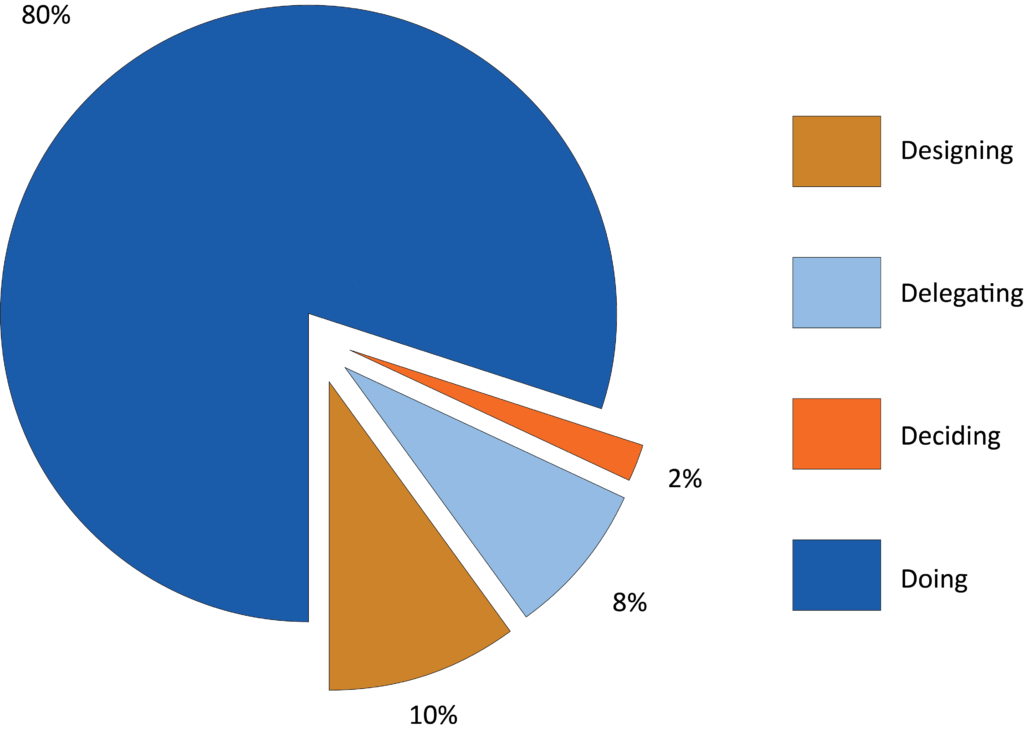 How much time do you spend supporting you?
The first metric is what makes the company thrive. This is your Key Business Role, and it's what everything else supports. Some call it days in genius, which makes a lot of sense. This is the time spent doing what you enjoy because it makes the company grow or achieve the desired results. If you're spending too much time doing stuff that isn't your role, then you may feel frustrated, and trapped. However, if you're optimizing your time in your business doing what benefits the company's prime objective, then you have leverage and control over its growth and success. Ideally, you would spend 80% of your working time in your key business role.
However, this metric needs to be balanced. As a business owner, with the weight of the world on your shoulders, it is important to find time away from the business, technology and the rest of your outside distractions. How much time can you do nothing? Well, nothing with the business. You can estimate this one, think about weekends, time with family and kids, gym time and hopefully some play time out on the dirt bike (this can't just be me).
This is a tough one, but hopefully you can set a goal, or at least a starting point. Try to see if you can improve on your "Free Days," as you dial in your metrics. There are 168 hours in a week, what is your balance between home and work life?
Time in Genius: Key Business Role
Most entrepreneurs work much more than 40 hours per week on their business. What's your mix?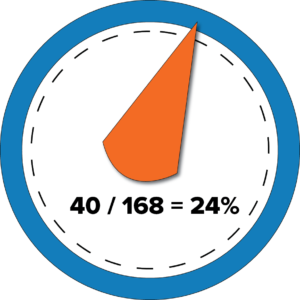 How well is your sales and marketing process operating? What metrics are you putting on your dashboard to see not only how well your sales system is working, but also to measure the health of your new leads and conversions.
The company's ability to grow, increase revenues and ultimately add cash to your pocket as the business owner, and bearer of all risk, is based on sales. In the ACDC system, A & C stand for Attracting and Converting.
Attracting: A non-financial KPI, it is important to track how many new leads you are receiving. I recommend the use of a CRM to help with this metric. Other useful metrics regarding attraction include the number of total traffic, and whether the trend is increasing or decreasing.


---

Converting: How many leads are you actually converting? But, additionally important to a HVAC service tech is average value of the converted lead. Which could be further broken down by conversion rate to repair, installation or service agreement. Conversion ratios are ofen measurements of efficiency and value added.
What are your deliverables? The D in ACDC stands for deliverable, which we call operations. These are typically your profitability ratios, but they can also be a measure of something that is important to you specifically. If you are focused on a certain segment of your business, then you may want to know exactly how many units you delivered. But, to keep an eye on the overall health of your business, your profitability ratios are going to be important indicators.
Average value per invoice.
Average value of invoice per total client base. (This is a measure of repeat business).
Gross sales
Gross profit margin
Net profit margin
Texas Medley, owner and operator of Medley Heating and Air Conditioning recommends watching your Cost of Goods Sold (COGS), and identifying your direct costs associated with a service or job, so that you can identify your real revenue to prepare better estimates.
What if you have a fleet?
You might also consider:
Revenue per truck, or

Revenue per field worker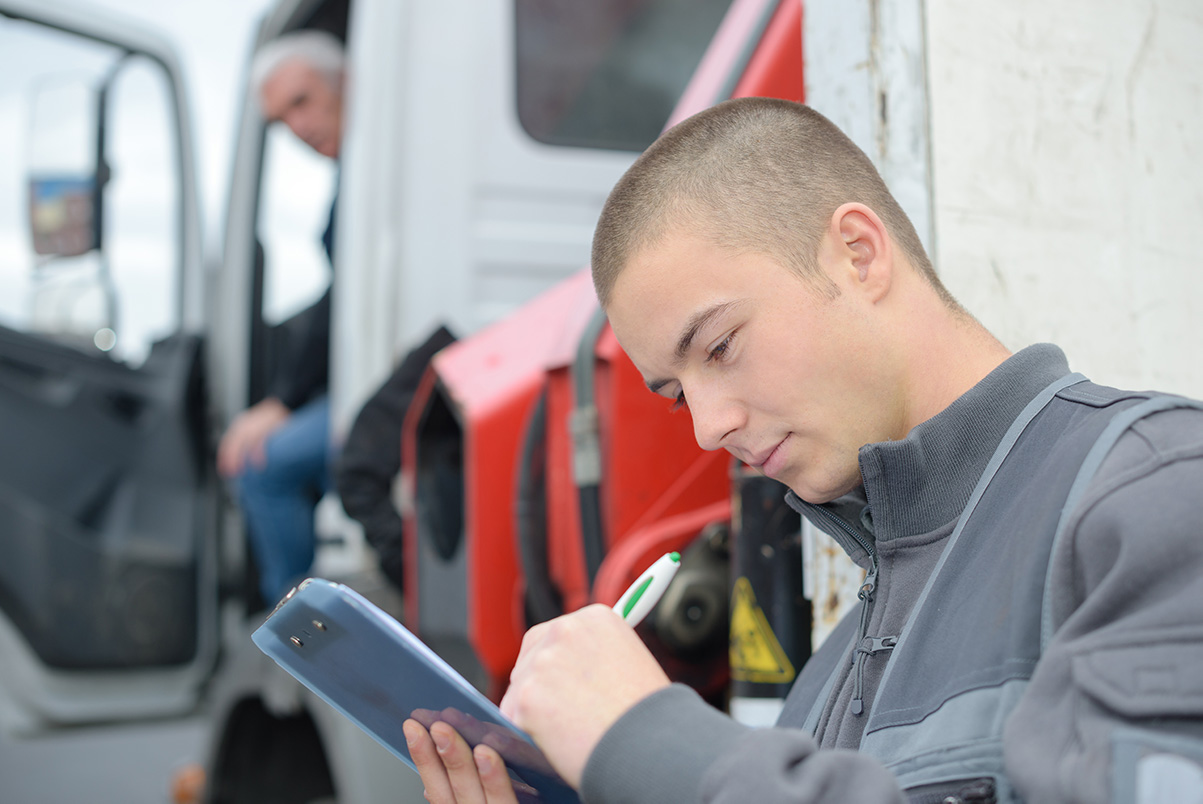 The lifeblood of your business is cash, and the 4th letter of the ACDC model revolves around the company's ability to collect. Here are a few cash metrics that should exist on a dashboard:
How much cash did you collect?
How long does it take to collect?
What is your average accounts receivable, and who owes you money?
How much cash is available?
How many days of cash is on hand?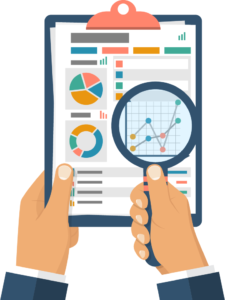 Identify your current metrics, so that you can set goals, and measure your efforts.
Establish a place that you will be able to view those metrics on a weekly basis, or at the very least on a monthly routine. You might create a dashboard on Excel, or find online platforms. We use Fathom, Microsoft BI, Klipfolio, LivePlan and QVinci. Ideally it needs to be easily accessible and readily understood.
Identify the things that your company does that moves the needle on your gauges, and focus on those areas to achieve the results you want. For example, if you have a metric that measures the number of qualified leads you are generating per month, you'll need to identify what processes go into place to generate those results. Are you writing blog posts, have you started a YouTube channel, do you use a review generator like NiceJob, Broadly or Convert?
When you identify what you dashboard needs to look like, the next thing you will to do is get better accounting. Intuit's internal research has identified that small businesses perform better when they team up with an accountant or bookkeeper, specifically a ProAdvisor. Our systems at High Velocity Accounting use cloud accounting software like QuickBooks and Xero to give our clients the most current and accurate information available.
Worrying about which direction to take your company and operating from poor, inadequate information can leave you feeling frustrated and wear you down. Anxiety and uneasiness in your stomach won't take care of itself. Worse than not being able to grow your business to the level you want it to be, is not knowing why the business is stuck, or even moving backwards.
Your gut doesn't have to continue to feel uneasy, and anxiety doesn't have to be the cost of being an entrepreneurial, self-employed pro. Begin taking control of your accounting, and your key performance indicators. Become keenly aware of your businesses systems, and learn how to make the adjustments necessary to change the direction of the needle. By creating a master dashboard to run your business from, you'll be able to free yourself from frustration, and focus on what really needs to be accomplished in your business.
Like we do with many of our clients, it is important to refine your performance indicators over time. As you learn more about the facets of your business, you may become curious in other sectors, and it's okay to change what performance parameters you want to see. We hope that you are able to take some key takeaways from this post, and that it helps you build a better business.